Irish Things: The Ultimate Top 20 List
What springs to mind when you think of Irish things?
There are just so many to choose from- the Emerald Isle is famous for such a huge variety of legends and exports considering its relative size.
It was difficult to narrow the list down, but we've grouped together 20 of our favourite Irish things for you, and we'd love to hear if you agree…
---
1) Guinness
Of course, the number one spot on our list of Irish things just had to go to Guinness! The black stuff, as they call it in Ireland, has become one of the most successful alcohol brands worldwide, and it all started in the brewery of Arthur Guinness at St. James's Gate, Dublin in 1759.
Guinness is an Irish dry stout which is now brewed in almost 50 countries, and available in over 120 countries. It is the best-selling alcoholic drink in Ireland, where Guinness & Co. Brewery makes almost €2 billion worth of beer annually.
Did you know that you can visit the Guinness Storehouse to experience the history, heart and soul of Ireland's most iconic beer for yourself? Find out how, HERE.
---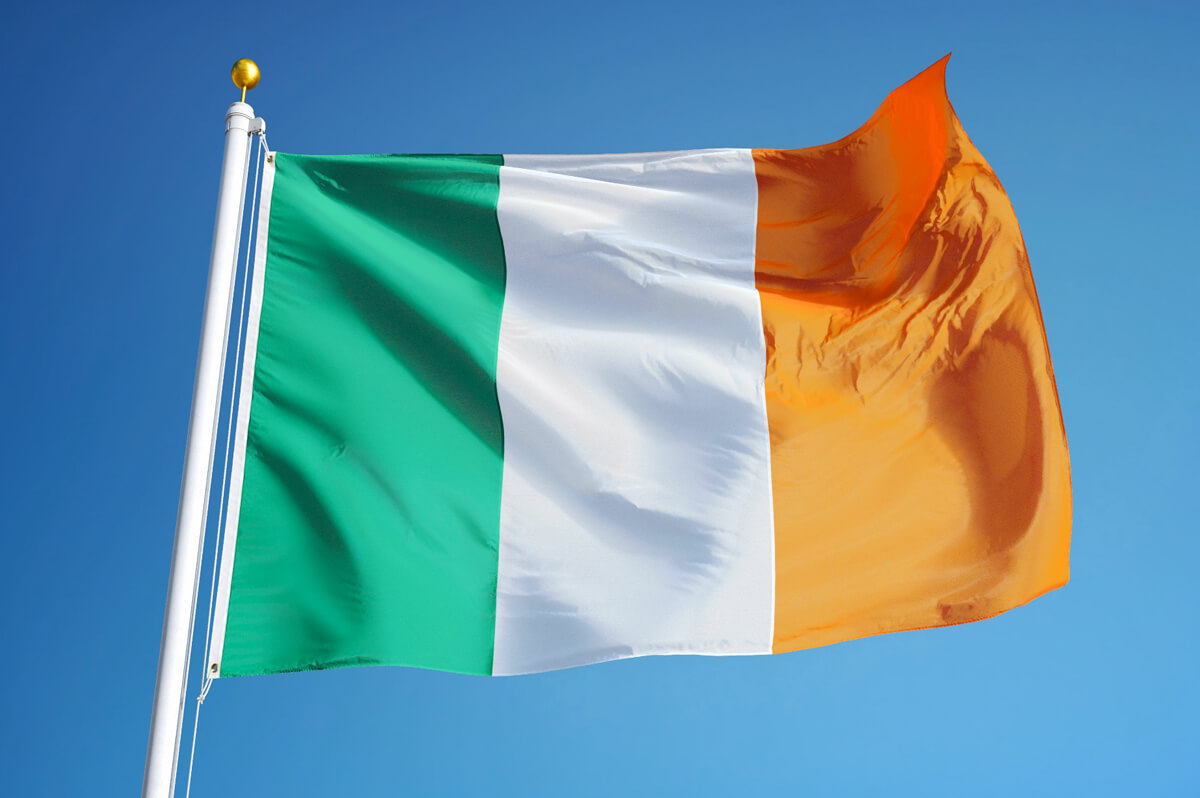 2) The Irish Flag
The Irish name for the striking tricolour striped flag which has been recognised as the country's national flag since 1916 is 'Bratach na hÉireann'.
Thomas Francis Meagher, the Irish nationalist leader of the Young Irelanders at the time was presented the flag by French women who were sympathetic to his cause.
The colours on the flag were meant to symbolise the longed for union between the Roman Catholics, represented by the green colour, and the Protestants, represented by orange.
Whilst many wish to publicly display the Irish flag as a symbol of national pride, there are a number of rules that must be adhered to if you do:
the flag must always be flown above any others displayed on the staff
it must never be displayed in poor condition
the flag must not be allowed to touch the ground or become entangled with trees.
and it must always fly with the green segment closest to the flagstaff
If you'd like to read more, you can do so in our article on the Irish flag.
---
3) Leprechauns
Did you know that leprechauns are actually a kind of fairy? But don't let that fool you, they are also tricksters, and are equally likely to use their magic to be wicked as they are to do good.
These mythical Irish creatures are often described as short, wizened and bearded old men, typically dressed in green and wearing buckled shoes. Sometimes they wear a tall cap or hat and may be smoking a pipe.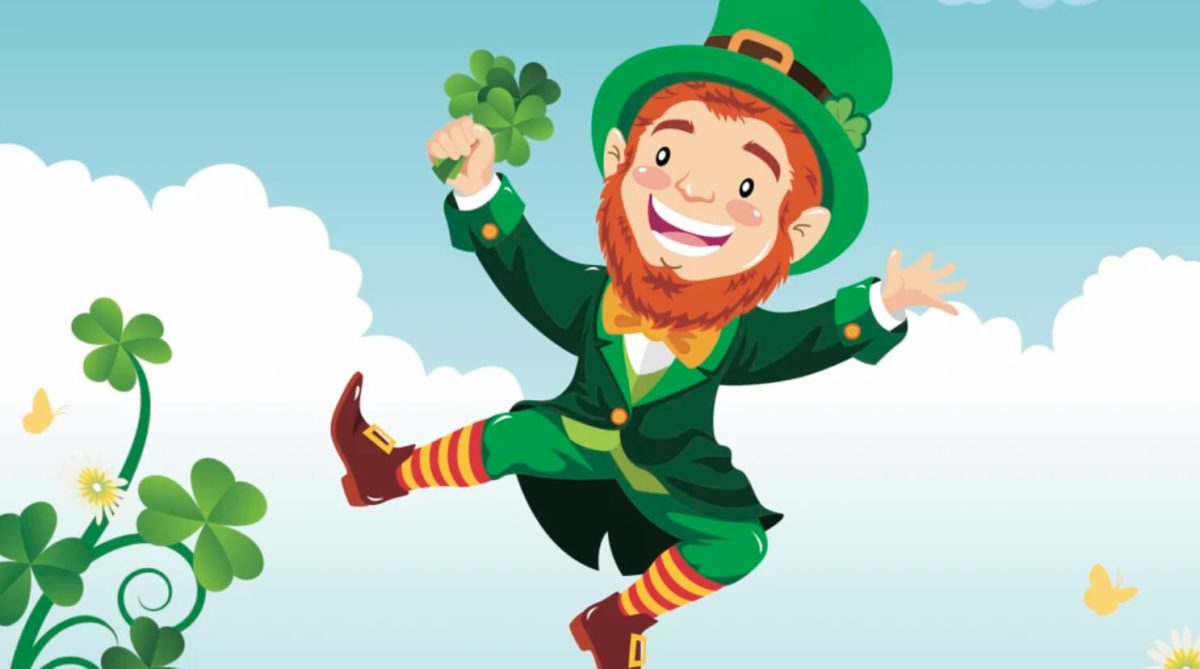 The most common of all Leprechaun myths says that the little Irish creatures find gold coins buried in the earth and store them all in a pot which is hidden at the end of a rainbow!
According to Irish legends, if you find a leprechaun and capture him, he will exchange his freedom for his treasure. But be warned, although this may seem like an easy route to riches, these roguish tricksters won't give in easily and will deceive whenever possible!
Want to find out more about leprechauns?
---
4) The Luck of the Irish
Ok, so not technically a tangible, physical thing, but who hasn't heard of the luck of the Irish? And if you've heard of it, you've certainly wondered how you can get a piece of it for yourself!
It is believed that the phrase the luck of the Irish came about many years ago due to the success the Irish people found in the mines. Plus there are an abundance of symbols associated with Irish luck, including the national flower of Ireland, the Shamrock, and of course the Leprechaun.
But just in case you still aren't convinced that luck really counts as one of our Irish things, check out this list of real-life examples of the luck of the Irish. You have to hear them to believe them!
---
5) Irish Coffee
We couldn't talk about Irish things without at least mentioning Irish coffee. Of course, it made our list- it's the perfect winter warmer on a cold day, and the ideal indulgent cocktail to enjoy with friends. You can drink it at the end of a three-course meal, or have it as a stand-alone treat.
The invention of Irish coffee is attributed to a chef named Joe Sheridan, who worked in a restaurant in the terminal building of Foynes airport. During the winter of 1943, a late-night flight was grounded, and Sheridan was asked to prepare something to warm up the weary and frustrated passengers.
Some stroke of genius inspired him to create the Irish coffee!
The traditional Irish coffee recipe is as follows:
1 shot Irish Whiskey
2 shots freshly brewed strong black coffee
3-4 teaspoons light brown sugar
4 tablespoons heavy whipping cream
And it is served in a particular kind of tall glass mug, with the cream floating on top of the coffee, giving a distinct 2 layered look. Why not give it a try yourself? It's delicious, you won't regret it.
---
6) St Patricks Day
Is there anything more quintessentially Irish than the mass celebrations on St. Patricks Day?
Every year on the 17th of March, the anniversary of the death of the patron saint of Ireland, people all around the world take part in a celebration of Irish culture. This takes varying forms but includes parades, music, special foods, dancing, drinking and a sea of green Irish things all around.
Ironically though, it was not in Ireland that the St Patricks Day celebrations we recognise today evolved, but in other countries around the world, and it was by Irish emigrants. Places with the largest numbers of Irish expats, particularly in the United States, staged the most extensive celebrations.
If you want to get involved in the celebrations next St Patricks Day there are lots of ways you can do it. Why not participate in 'wearing the green' by wearing green clothing or sporting a Shamrock, or else you could indulge in the old traditional foods of corned beef and cabbage.
And if you find the right establishment, you might even find one that serves its beer died green to mark the occasion.
---
7) Irish Soda Bread
If you have never tried Irish soda bread for yourself, you may be wondering what exactly makes it special enough to be on our list of the best Irish things… but then again, if you have tried it, then you'll definitely already understand!
It's mouth-watering smell and tantalising taste make Irish soda bread special enough already, but then there is also the fact that it is made without yeast, which sets it apart from other breads.
Being yeast-less means Irish soda bread is a quick and easy recipe to make yourself at home, and is in fact the reason it grew to be such a popular staple in the first place.
The Irish soda bread may have become a matter of national pride these days, but in fact, it only came about in the 19th century at a time when Ireland was faced with poverty and food shortages all over the country, because it was necessary for bread to be made with the smallest number of ingredients, as cheaply as possible.
Find out more about Irish soda bread, and even check out some recipes to try making your own.
---
8) The Irish Wolfhound
The Irish wolfhound is one of the oldest dog breeds in existence, having been around for over 1000 years! They were developed by monks who needed an animal that could hunt down and protect them from wolves. Whilst some are still used today as hunting dogs, many are also just beloved family pets.
These dogs are (quite literally) one of the biggest Irish things on our list- they are the tallest dog breed in the world, with an adult male capable of reaching over 7 feet when standing on its hind legs!
But don't let their enormous size fool you; Irish wolfhounds are generally gentle souls, who love to get along with everyone, and are especially good with children, and a friend to other dogs.
Get to know these legendary gentle giants in more detail with our article on the Irish wolfhound.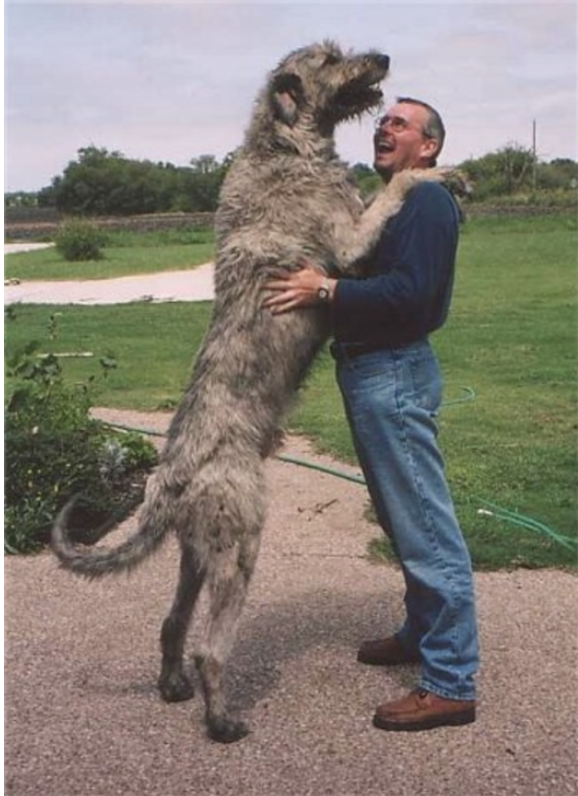 ---
9) The Shamrock
The shamrock is a small clover which is the national flower of Ireland.
It was once an important symbol to the ancient Irish Druids, who believed that everything important in the world came in threes; from the three dominions of earth, sky and sea, the three ages of man, and the three phases of the moon; so it is only natural that a plant with three leaves would have been held in high regard.
It is believed that St Patrick realised the importance of this small plant to the Druids, and decided to use the shamrock to illustrate the Christian teachings of the Holy Trinity. This was an effective way of spreading the word of Christianity throughout the land, in a way that best appealed to its people.
The shamrock was considered by many to have mystical properties and the ability to predict the weather; its leaves turn skyward when a storm is brewing. In Celtic lore the shamrock has always been a charm against evil, which relates to the modern belief in the four leaf clover as a good luck charm.
These days you can spot these symbolic Irish things everywhere, from growing naturally in the countries verges, to adorning all kinds of merchandise.
---
10) Irish Whiskey
Irish whiskey was one of the earliest distilled drinks in Europe, it has been in production since in the 12th century. There are four different kinds: malt, pot still, grain and blended.
The word 'whiskey' comes from the Irish 'uisce beatha', meaning water of life.
Although it was once the most popular spirit in the world, whiskey was one of the Irish things that suffered through the depression years. Production declined to the point that there was only 2 distilleries left in operation in Ireland in 1966, where as there had previously been as many as 38.
Luckily, fortunes have turned around, and since the 1980s Irish whiskey has had a revival, and since 1990 it has been the fastest growing spirit in the world. There are now more than 30 whiskey distilleries in Ireland.
Some of the most popular Irish whiskey brands you are sure to have heard of are:
Jameson
Bushmills
Redbreast
Dead Rabbit
Tullamore
Teeling
The Sexton
But there are also many more, and you really should give them all a lash, as they say in Ireland.
FANCY TREATING YOURSELF TO A BOTTLE OF THE GOOD IRISH STUFF?
---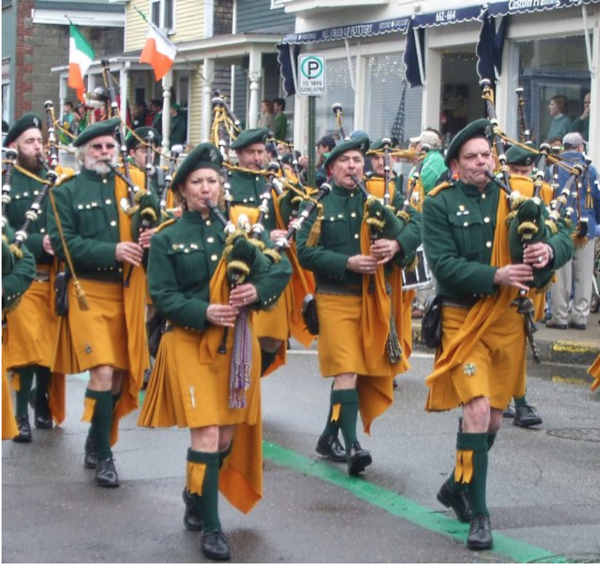 11) The Irish Kilt
We really felt like the kilt had to make this list, because it is one of those Irish things that just doesn't get enough credit. Many only associate the kilt with the Scottish Highlands, ignoring the long history they have with Irish culture too.
The kilt most traditionally associated with Ireland is known as the Saffron Kilt. These were the first kind worn by the Irish military and are still the most widely worn today. The Saffron Kilt is mustard yellow in colour and often has shamrock appliques adorning the pleat.
Why not read our full informative guide to the Irish kilt.
---
12) The Irish Language
Whilst the vast majority of Ireland speaks English as their first language, the traditional language of the country is one of those Irish things which should never be forgotten.
Also called Erse or Gaelic, the Irish language is still one of the national languages of the Republic of Ireland, and is still taught in the public schools and is required for certain civil-service posts.
Fun fact: In 2013, Canadian astronaut Commander Chris Hadfield sent a tweet captioned in Irish from the International Space Station. This marked the first time the Irish language was used in outer space.
Until the 17th century it was the only language spoken in Ireland, but now there are only an estimated 138,000 people that use it as their first language, and most of them are scattered around the west coast of Ireland.
---
13) Irish Stew
Irish stew is generally a lamb or mutton and root vegetable stew, but over time there have been adaptions made to use beef as well. This recipe is one of those Irish things which is difficult to definitively describe- as is the way with many traditional folk dishes, the exact recipe is not consistent from time to time, or place to place.
A good hearty stew is one of the prides of the Emerald Isle, and is the perfect dish to warm the soul on a wintery day. The standard recipe is usually lamb meat, potatoes, onions, carrots and parsley, but we are betting that most Irish families will have their own secret ingredient or two to add!
Why don't you try out one of these classic Irish Stew recipes.
---
14) Oscar Wilde
Of all of the Irish things to be proud of, the works of Oscar Wilde definitely have to be near the top of the list. Wilde was an Irish poet and playwright who lived from the 16th October 1854 until the 30th November 1900. He became possibly the most popular playwright in London by the 1890s and his works are still revered today.
Fun fact: Oscar Wilde's birthplace is now the Oscar Wilde Centre of Trinity College, which houses the Irish writing and creative writing departments for the School of English
Oscar Wilde is particularly famous for his novel 'The Picture of Dorian Gray' and on his comic masterpieces 'Lady Windermere's Fan' and 'The Importance of Being Earnest', amongst others. Wilde's many short stories, plays and poems continue to inspire people all around the world.
He was also famed for his larger than life personality and antics, his wit and flamboyancy, not to mention his trials and conviction for sodomy. It was during his imprisonment that Oscar Wilde contracted the meningitis that he sadly died an early death from.
But the intelligent and articulate man went out memorably, with the witty last words, "My wallpaper and I are fighting a duel to the death. One or other of us has got to go".
---
15) Irish Elk
The Irish Elk is one of those Irish things that is not just the star of many legends and folk tales- this magnificent beast actually existed, it just, unfortunately, went extinct around 11,000 years ago. It was one of the largest species of deer to ever exist, and stood up to 7 feet high at its shoulder alone.
The Irish elk evolved during the glacial periods of the last million years, and despite what their name suggests they were not exclusive to Ireland. Evidence in the form of well-preserved skeletons suggests that they ranged throughout Europe, northern Asia and northern Africa too.
The National Museum of Ireland in Dublin is home to one of the largest and most complete collections of Irish Elk in the world and is well worth a visit if you are ever in the area.
---
16) Gaelic Football
As Irish things go, this sport is one that the natives are particularly proud of. Gaelic Football is a high-speed, high-excitement game which requires its players to have a great level of precision, accuracy and intensity.
It is in fact the most popular of all the Gaelic sports, with the Ladies version of the game being the fastest-growing team sport in Europe.
Fun fact: In 2018, the All-Ireland Ladies Football Final held in Croke Park was the largest female attended sporting event in the world for that year!
The history of Gaelic football is a long one, with a rough version being common throughout the middle ages, a version which went on to become the forebears of both soccer and rugby. Modern Gaelic football is played with 15 players on each team, with one referees and with H shaped goals.
---
17) Irish Setter
The Irish Setter was originally bred to be a hunting dog, and it grew in popularity over other breeds that served the same purpose, not just because of its keen nose, but also because their bright red colour was easy to spot in cover.
Nowadays the beautiful Irish Setter is a popular household pet, known for their friendly and outgoing nature, and elegant good looks. They also have a high level of intelligence, although they are prone to having a mischievous streak.
---
18) Irish Folk Music
Even though many of the popular folk songs we hear today are less than 200 years old, traditional Irish music actually has origins that stretch back more than 2000 years. And yet the genre remains popular and current, with the Music Festival of Ireland, 'Fleadh Cheoil na hÉireann' still seeing over 400,000 people attending each year.
Irish music has been passed down from generation to generation from memory and word of mouth, rarely formally recorded. The traditional instruments most frequently heard are:
the fiddle
the Irish flute
the tin whistle
the celtic harp
the uilleann pipes
and the bodhrán
Traditional Irish folk music has travelled around the world and is now widely recognised. And yet the most wonderful thing about it, is how it is more about the Irish spirit than hitting the specific notes- with each musician putting their own stamp on each song, you will rarely hear two fiddlers playing the same tune exactly the same way!
---
19) Irish Blessings
Irish blessings are one of those Irish things that have been around for as long as the written word can be traced. Thanks to the Irish folks love of beautiful language, and natural affinity for verse and rhyme, there have been a number of blessings which have become world renown and get used for all sorts of occasions.
One of the most popular of these being:
"May the road rise up to meet you.
May the wind always be at your back.
May the sun shine warm upon your face,
and rains fall soft upon your fields.
And until we meet again,
May God hold you in the palm of His hand."
If you are interested in reading more about this, check out our more in-depth blog post on Irish blessings .
---
20) The Cliffs of Moher
In terms of visitor numbers each year, the Cliffs of Moher are definitely one of the most popular Irish things in Ireland for tourists to visit. They are not just historical landmarks, but also geographical and geological wonders, and conservation hotspots.
These sea cliffs are located at the southwestern edge of the Burren region in County Clare, Ireland, and run for an impressive 9 miles along the coast.
On a clear day, the views from atop these sheer cliffs are just astounding, well worth a visit if you are visiting the Emerald Isle.
And to finish, how about a few lesser-known Irish things?
Did you know it was Irishman, Joseph 'Spud' Murphy who invented the flavoured potato chip?
Or that it was Irishman, John Phillip Holland that invented the submarine in 1878
And John Joly from County Down invented the first way to produce colour photography.
Another man from Ireland, Hans Sloane, found a way of mixing chocolate powder with milk rather than water, giving us the chocolate milkshake.
Ireland is famous for being the original celebrators of Halloween
Ireland is also famous for being the crowned winners of Eurovision no fewer than seven times, and they (proudly) are the only nation to win three years in a row!
There really is no end to the number of wonderful Irish things!