Everything you need to know about Irish Dancing
Whether you're keen to do it yourself, or are simply interested in the history of Irish dance, there is a lot to learn about this beautiful form of dance.
There are many different forms of Irish dancing, with extensive cultural and historical significance – and thanks to some very famous examples of Irish dance, like Riverdance, it's become a worldwide phenomenon. So, here's everything you need to know about this traditional dance form.
---
History of Irish Dance
The origin of Irish dance is slightly murky, with little evidence to point to how, when or why it became popular. Although it may have been performed prior to this, and there is some commentary from visitors to Ireland that points towards the existence of social dancing, the first native Irish documented evidence dates to 1413.
What is clear, though, is that by the 17th century, Irish dance was popular across the country, with several written accounts detailing different forms of Irish dancing. In 1569, for example, Sir Henry Sydney, Lord Deputy of Ireland, wrote to Queen Elizabeth I with great enthusiasm for the Irish jigs he'd witnessed on his trip.
It's likely that Irish dance developed alongside Irish music, and it's also thought that it was influenced by other dance forms from continental Europe, such as the Quadrille. This dance is a square dance, performed by four couples in a set, similar to American square dancing.
It was popular in the 18th and 19th centuries, initially with royalty to begin with, but it soon became more widespread across the classes. It's thought that the dance was initially brought to England and Ireland by traveling dance teachers. It's easy to see the similarities between the Quadrille and Irish dancing: both make use of set formations with set sequences, and occasional swapping of partners. But set dancing isn't the only form of Irish dance – there are several others that you need to know about, too.
---
Styles of Irish Dance
Irish dancing takes three different forms: set dancing routines, social or céilí routines, and sean nós or step routines. They're all slightly different, but there's one main similarity between all three types, which you might have noticed when watching Irish dancers. Because dances were performed in small spaces during the 18th and 19th centuries, such as small rooms in pubs. That meant there wasn't much room to move around, so dancers tended to only move their feet, keeping their upper bodies and arms fairly static. Let's take a closer look at these three forms of Irish dance, as well as some others you may come across.
Set dancing routines
Set dancing, as discussed, is similar to the quadrille. There are two couples, who follow a set routine to dance through the square, eventually changing positions. Set dancing uses the 'flat down' technique, which is when dancers use the whole flat part of their foot, focusing on the heels, rather than dancing up on their toes as in some other forms of dancing.
Social or céilí routines
Céilí dancing is very similar to Scottish ceilidh dancing. It's a form of social dancing, and can most commonly be found at weddings, functions and other organised events such as fundraisers. There's usually a live band, sometimes with someone who calls out the steps – so beginners and experienced dancers alike can enjoy these traditional Irish wedding dances! There are many different types of céilí dances, some of which are performed in couples, some in sets of six, and others with as many people as possible.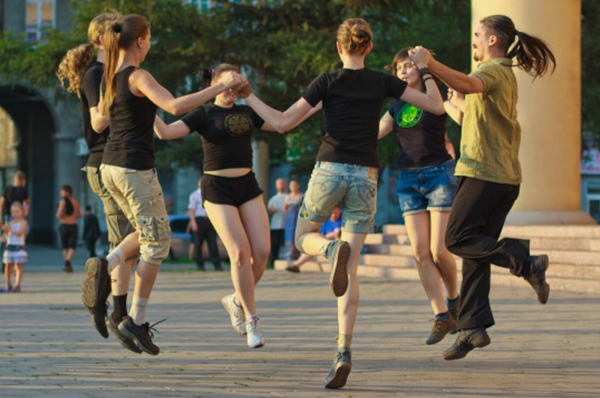 Sean nós or step routines
Step dancing can be performed by single dancers, couples, or in groups. Dancers keep their upper bodies rigid, with a focus on fast, complex footwork, hops, and high kicks. Irish step dancing became popular internationally thanks to Riverdance, which originally began as an interval performance during the 1994 Eurovision Song Contest, and went on to become a highly regarded theatre production. Step dances are often performed at Irish dancing feis, or festivals, which is a traditional celebration of Gaelic life and culture.
Sean-nós is similar to step dance, but it tends to be less rigid, with dancers moving their arms rather than keeping their upper body still.
---
Irish Dance Costumes
Dancers wear a wide variety of different costumes when performing. Many years ago, it was common to simply wear your most formal clothes, or your 'Sunday best'. Today, costumes are more elaborate and colourful. Irish dancing dresses worn by women are often short dresses that are decorated with intricate Celtic knotwork or sparkly embroidery.
For solo dancing, women may wear form-fitted dresses with long sleeves and stiff skirts. Most Irish dancing schools have their own full-skirted dress, which is usually embroidered with a pattern from the Book of Kells. Men usually wear trousers and a shirt, which might be similarly embroidered to the woman's dress.
There are two kinds of Irish dancing shoes, and the type each dancer will wear depends on the type of dance they're doing. Irish dance soft shoes, also known as ghillies or pumps, are similar to ballet shoes but they're usually black leather and are lace up. Soft shoes are worn by women for performing dances like the reel, the single jig and the slip jig. Men performing these dances don't wear soft shoes – instead they wear 'reel shoes', which look like jazz shoes with a hard heel, and they make an audible clicking sound when dancing.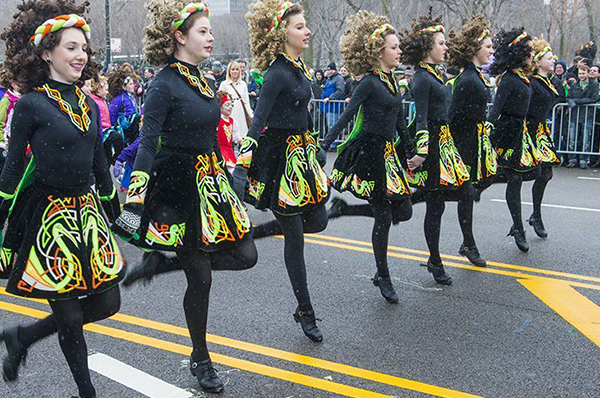 Hard shoes, on the other hand, resemble tap shoes – but unlike tap shoes where the heels are made from metal, the heels in tap shoes are made of fibreglass. They're worn when performing heavy and treble reels.
---
Irish Dance Competitions
Irish dance competitions are known as a 'feis' (plural 'feiseanna'). Feis simply means 'festival' in Irish, and these festivals usually include dancing competitions as well as music and craft competitions.
Strictly speaking, the word for dance competitions is 'féile', but the two terms are used interchangeably.
Irish dance festivals split dancers into different categories based on age and experience, and dancer are judged on a variety of different elements including:
Technique (including foot placement and turn out)
Style
Rhythm
Grace
Choreography
Shoes sounds (when wearing hard shoes)
Carriage
There are many competitions all around the world, including Ireland but also further afield such as Australia, Canada and the USA.
The World Irish Dance Championships (known as Oireachtas Rince na Cruinne in Irish) is an annual Irish step dancing competition. Often simply called The Worlds, this competition is highly regarded as the premier event for step dancers, and only the very best dancers in each category qualify to compete. The World Irish Dance Championships 2022 were hosted in Belfast, and will be hosted in Montreal in 2023, where it's expected 6,000 participants will compete.
---
Irish Dancing Music
In the past, Irish dance was accompanied by simply a harp, a bagpipe or singing. Today, different types of dances call for different music.
Solo dancers are usually accompanied by a solo instrument, while couples and groups may be accompanied by a full band, including specifically Irish instruments such as:
The bodhran (a hand-held drum made from goatskin, that's played with a wooden beater called a tipper)
The tin whistle
The fiddle
The concertina
Uilleann pipes (the Irish form of bagpipes)
---
Mainstream Irish Dance
Irish dancing is known around the globe, largely in part – as already mentioned – to Riverdance, the wildly popular theatre show featuring traditional Irish dance and music. Originally featuring dance champions Michael Flatley and Jean Butler, the show opened in Dublin in 1995 – and since then, it's travelled to over 450 venues around the world, and been seen by over 25 million people.
Irish dancing is known around the globe, largely in part – as already mentioned – to Riverdance, the wildly popular theatre show featuring traditional Irish dance and music. Originally featuring dance champions Michael Flatley and Jean Butler, the show opened in Dublin in 1995 – and since then, it's travelled to over 450 venues around the world, and been seen by over 25 million people.
After Michael Flatley left Riverdance, he created Lord of the Dance, another hugely successful production. The story centres on the Lord of the Dance, who is caught up in a fight against the dark lord Don Dorcha who is trying to take over Planet Ireland. The stories featured throughout the show are based on traditional Irish folk stories.
Have we captured your imagination? If you want to feel more connected to your Irish roots, consider becoming a Lord or Lady of Ardmore. You'll be helping to create a sustainable nature reserve in Ireland, preserving this beautiful land for generations to come – and you'll be able to visit your plot at any time. Why not take an Irish dancing class while you're in Ireland, or take in a show to witness this traditional form of dance at its very best?
---
Brought to you by Celtic Titles
Celtic Titles' mission is to conserve Scotland, one square foot at a time™. By selling souvenir plots of land and titles we are funding our Nature Reserves and conservation projects. Join us and become a Lord, Lady or Laird* of Ardmore!